WE CAN PERFORM PROFESSIONAL REBUILDING OF YOUR ENGINE
We specialize in comprehensive rebuilding of all internal combustion, including diesel engines. We offer the regeneration of engines for cars, vans and trucks of all brands as well as construction and agricultural machinery and specialised vehicles. In addition, we repair vintage and sports engines. Regardless of the type of vehicle, any motor requires repair at some point during its operation. It is a good idea to contact specialists so that the engine rebuilding work is carried out correctly and the price does not exceed the planned budget. We provide engine renovations that include:
cylinder head rebuilding,
repair of combustion engine blocks,
crankshaft rebuilding,
 rebuilding of engine blocks and other components of internal combustion engines
We always begin engine rebuilding by technical verification, then we present the scope and price of the repair; when the date is established we proceed to carry out the service. Thanks to this, the client remains in control and gains a clear understanding of the activities. We also have equipment for ultrasonic cleaning of engines, blocks and cylinder heads, which perfectly complements the rebuilding services. You can see our full offer below.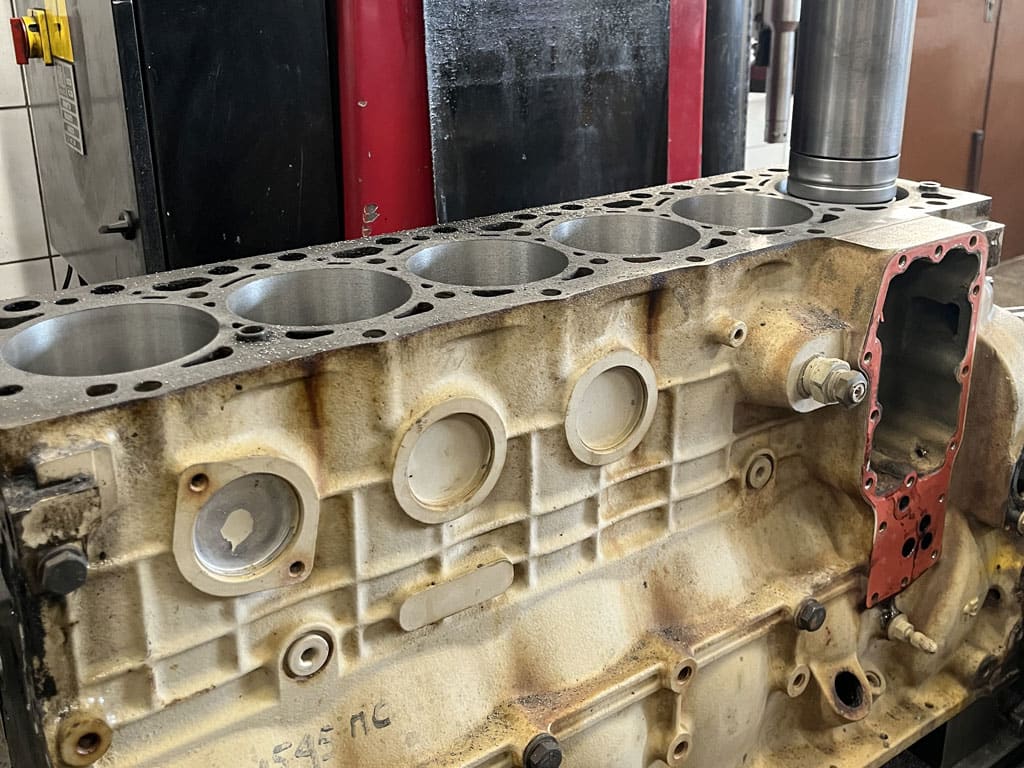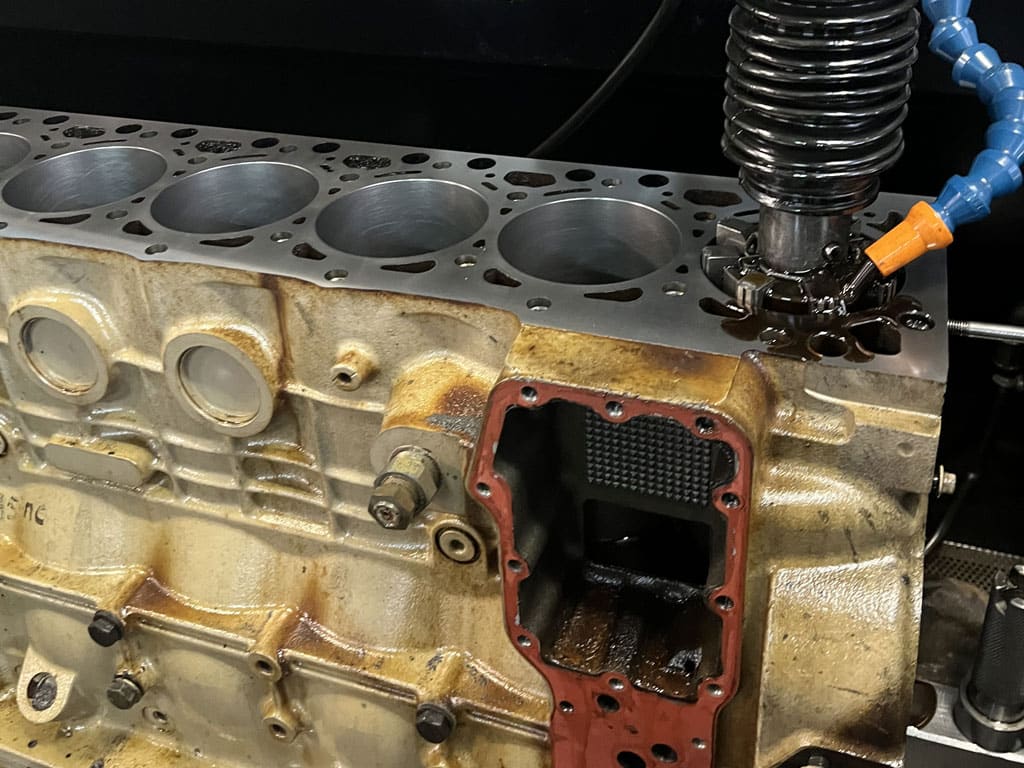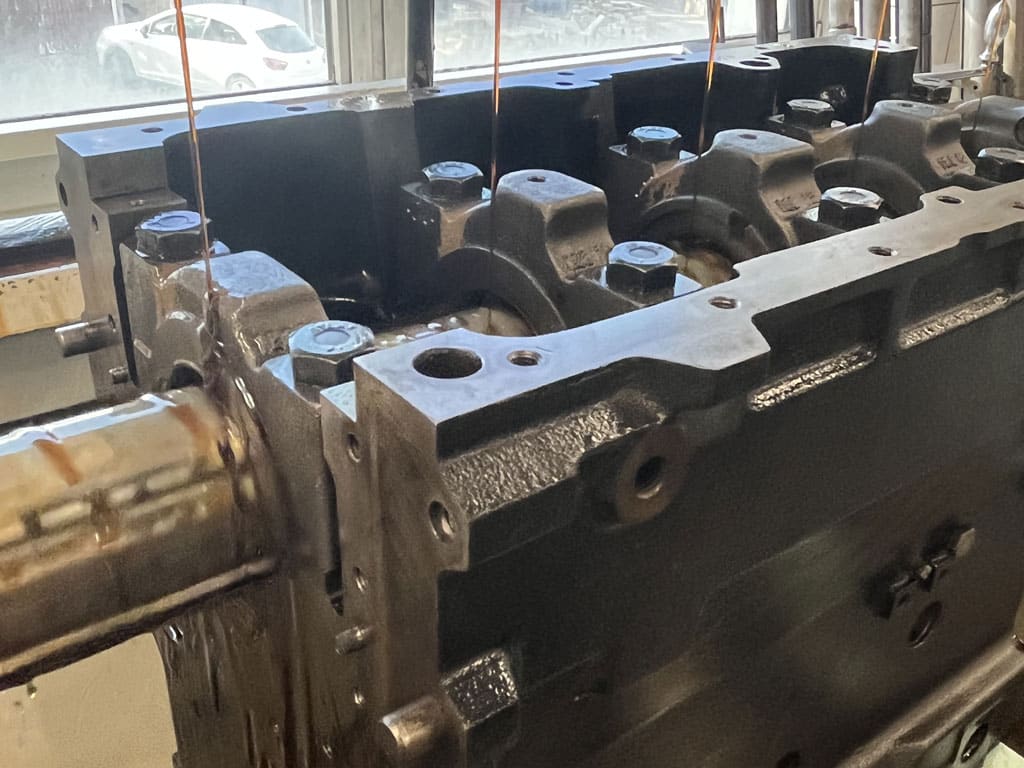 Comprehensive rebuilding of petrol, diesel and vintage engines
Our company offers comprehensive services for the rebuilding of vintage, petrol and diesel engines. We use our own machine facilities, in which we utilise modern tools and technologies. The first and most important operation in the engine rebuilding process is pre-cleaning. It ensures the proper cleaning of all elements by removing dirt, residual grease and other impurities. This makes it possible to accurately check the damage to the engine and its components. The next step includes the following activities:
 machining,
technical consultancy,
use of the ultrasonic method,
preparation for assembly.
What engines can we repair and rebuild?
Thanks to the many years of experience and qualifications of our staff, we can provide the rebuilding of components for engines of:
high-performance sports (racing and rally) cars,
passenger cars and vans,
trucks and buses,
construction machins,
 forklifts,
tractors and agricultural machines,
specialised vehicles,
motorcycles,
compressors.
We also repair vintage engines and rebuild truck components.
The scope of work on the rebuilding of internal combustion, diesel and vintage engines
We provide a wide range of services in connection with the repair of petrol and diesel as well as vintage engines. We also perform comprehensive repairs to heads, blocks and cylinder liners.
When repairing heads we carry out works involving:
removal of broken glow plugs,
removal of seized injectors,
welding of cracked and damaged heads,
complete machining of heads,
checking the sealing of water jackets,
space planning,
replacement or rebuilding of valve guides,
replacement and milling of valve seats,
grinding and adding valves,
machining of camshafts,
repair of threads,
 replacement of valves,
 head installation – assembly, adjustment.
With regard to repair of blocks and cylinder liners we provide such services as:
cylinder services – boring and honing,
replacement of cylinder liners,
adding dry and wet cylinder liners,
space planning,
rebuilding (alignment) of camshaft bed plates – boring and honing,
boring of camshaft bushings,
hardfacing of defects, welding of cracks.
Rebuilding of engines for motorsport and marinas
We can perform rebuilding of non-standard engines for motorsport and marinas. These types are characterised by exceptional parameters. Engines for sports cars are classified as high-performance units, as they must be as effective as possible. Engines used in motorsport do not always have to be big; often the key to success in rallies and other sporting events is the transfer of their power to the asphalt. Many motorsport engines have been subjected to full tuning or comprehensive reconstruction.
Marine engines for boats are characterised by a specific design. These include outboard, electric, gasoline and diesel models. These units must be fault-free and resistant to the harshest conditions.
How are sports engines rebuilt?
Our services include the comprehensive rebuilding of sports engines. Their repair is a particularly demanding task, as such motors have an unusual structure and have often been tuned or reconstructed for the highest possible performance. Professional rebuilding of the individual components of sports engines requires extensive knowledge and experience as well as well-developed machine facilities equipped with high-quality equipment. These factors guarantee the highest level of service to restore the original parameters so that a sports engine can achieve satisfying results in rallies and other sporting events.
Rebuilding of vintage engines
We offer our clients professional rebuilding of vintage engines. Vintage cars are becoming increasingly popular, and their engines usually require extensive repairs. Such vehicles have often been left unused for a long time, so their engines have to be renewed. Experts working in our company on rebuilding of vintage engines perform the following:
replacement of all seals,
change of operating fluids,
grinding or polishing shafts and connecting rods,
 engine block alignment,
honing of holes for crankshaft,
honing or grinding of cylinders,
grinding of head valves,
hardfacing and grinding of camshafts.
Any work carried out during the rebuilding of vintage engines requires extreme accuracy, as they must be assembled with precision, to a hundredth of a millimetre.
Rebuilding of truck components
We also provide services for rebuilding of truck components. This process is very complicated. It requires not only suitable tools and equipment, but also professional knowledge and experience in repairing truck engines, which have to withstand heavy loads in their daily operation. To be able to perform their tasks properly, they must be kept in perfect technical condition, which can be achieved through regular inspections and repairs done on time.
Rebuilding of specialised engines
The specialised motors used in various branches of industry are usually electricaly powered. They drive specialised machines, such as winches, conveyors, elevators, pumps, production lines and fans. They work in difficult conditions and are exploited very intensively. Such motors are often exposed to harmful external factors, which contributes to faster wear of their components. They must be optimally selected and maintained in good technical condition. Their performance has an impact on the efficiency and smoothness of work in modern production plants. We offer the rebuilding of specialised motors as the ideal method to restore them to their proper technical condition, meaning full efficiency.
When should you decide to rebuild an engine?
The engine is, of course, the central part of any vehicle or machine, so its condition determines how long the vehicle will remain operational. However, failure is not the only situation behind the decision to rebuild the engine. When else is this service useful?
Degraded engine performance – if the driver has problems with starting the engine, power loss or smoke coming from the vehicle, the engine may need rebuilding.
Accident repair – an accident involving a frontal collision does not have to require scrapping of the entire car or engine replacement. Rebuilding is often possible as long as the damage is not too severe.
Wear caused by improper operation – as a result of improper use, parts of mechanisms could wear faster and need to be replaced.
Repair of vintage engines – vintage cars are of special value to drivers, but over time they may be required to rebuild their engines, especially when such vehicles are used on a daily basis.
If you are interested in our services, feel free to contact us.