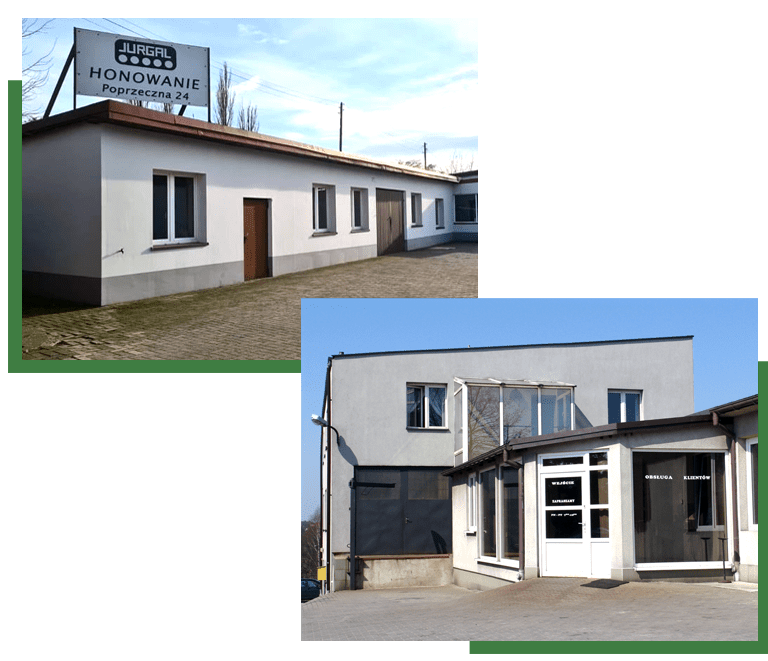 Got a question? We are happy to help!
If you are looking for somewhere that offers industrial honing technology or comprehensive rebuilding of engines, which has experience in all those specialised processes, we encourage you to do business with JURGAL.
We utilise the industrial honing technology to perform precision machining to achieve the desired diameters and lengths of holes that are elements of machinery and devices operating in many industries.
We are capable of rebuilding the components for petrol and diesel engines in cars and trucks. At our company we rebuild the engines of vintage and sports cars.
Contact details:
JURGAL SECRETARIAT
ul. Plebiscytowa 17
43-190 Mikołów, Poland
Office hours:
Mon-Fri 7.00 a.m. – 4.00 p.m.
Sat-Sun: Closed
INDUSTRIAL HONING
ul. Poprzeczna 24
43-190 Mikołów
Office hours:
Mon-Fri 7.00 a.m. – 4.00 p.m.
Sat-Sun Closed
INDUSTRIAL HONING OFFICE
ul. Poprzeczna 24
43-190 Mikołów
Office hours:
Mon-Fri 7.00 a.m. – 4.00 p.m.
Sat-Sun Closed
ENGINE REBUILDING
ul. Plebiscytowa 17
43-190 Mikołów
Office hours:
Mon-Fri 7.00 a.m. – 4.00 p.m.
Sat-Sun Closed
ENGINE REBUILDING OFFICE
ul. Plebiscytowa 17
43-190 Mikołów
Office hours:
Mon-Fri 7.00 a.m. – 4.00 p.m.
Sat-Sun Closed